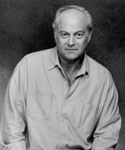 TRAINING / CERTIFICATION



Susan Batson - Manhattan, New York


Sanford Meisner - Manhattan, New York


Bill Hickey - HB Studios - Manhattan, New York


Member, NATAS


Member, The Actors Studio - NYC


Member, SAG


Member, AFTRA


Member, Equity

Stuart Burney is a top-rated widely respected, sought after, Manhattan, New York acting teacher / acting coach offering acting workshops, acting classes and private coaching at his NYC Acting Studio.

Ever since Stuart sat on Jackie Gleason's knee backstage in a Broadway theater in Manhattan, New York in 1949, he has been involved in acting. His show business and acting career has spanned over 40 years, giving him the opportunity to have worked with some of the most gifted actors and directors. Stuart has worked in every facet of the business - as an extra, stand-in, stuntman, 2 years on the TV series "Sea Hunt" starring Lloyd Bridges, commercials, theater, motion pictures, TV episodics, and radio.

He has studied with some of the most respected acting teachers in the country including Susan Batson, Sanford Meisner, and Bill Hickey. He is a lifetime member of The Actor's Studio in Manhattan, New York and teaches his own Acting Workshop / Acting Classes (as well as private instruction) in Manhattan, New York, now in it's tenth year.

Stuart has worked with directors such as: Mike Nichols, Alan Pakula, Arthur Penn, Estelle Parsons, Ken Russell, and Peter Yates to name a few. He has appeared in numerous feature films, television (the pilot episode of "Law & Order" plus 15 reoccurring episodes; ("Law & 0rder Criminal Intent and SVU"), the Emmy award winning American Playhouse "Concealed Enemies", as well as recurring roles in Soaps and over 100 TV commercials.

In addition to being a working actor, acting teacher, and private acting coach, he is a faculty member of Black Nexxus, Inc., Acting School of New York. To learn more about his acting workshop or his availability to be your private acting coach, simply contact Stuart Burney via phone (917. 482.0810) or email info@actingteachernyc.com. To reviews references pertaining to Stuart Burney as an acting teacher follow this link: references.
______________________________________________________________________

About Private Acting Coaching Sessions: (By appointment)

Private, one-on-one acting sessions geared to meet your individual acting needs and goals whether they be for film / TV, stage, audition preparation, monologues or getting your career on track. For more information about Stuart Burney's Private Coaching sessions (at the 29th Street Repertory Theater in NYC) follow this link: Private Coaching Sessions.
______________________________________________________________________

About the Acting Workshops:

A process oriented, practical acting workshop / acting class in its 18th year, held at the 29th Street Repertory Theater in Manhattan, New York City that focuses on the essentials of the acting craft, and gets you in touch with your essential creative inspiration that will enable you to book work.



Small classes


Individualized attention


Get in touch with your core inspiration


Create your own way of working


Experiment safely without judgment


Discover your strengths


Make conscious and work through what blocks you and holds you back from becoming a working actor


Explore and develop characters, safely and in-depth


Select and prepare strong monologues for auditions


Create your own monologues


Select and work on scenes that strengthen your artistic voice


Develop material for a one person show

For more information about the Acting Workshop follow this link: Acting Workshop.
______________________________________________________________________

Videos:

______________________________________________________________________

Stuart Burney Has Work With Actors Such As:

Al Pacino, Michael Caine, Martin Sheen, Sam Sheppard, Christopher Walken, Maggie Smith, Burt Reynolds, Christopher Reeves, Mary Tyler Moore, Sam Waterson, Chris Noth, Jerry Orbach, Michael Moriarity, Kirk Douglas, Ellen Burstyn, Betty Buckley, Ed Hermann, Lloyd Bridges, Wesley Snipes, James Spader, Avery Brooks, Robert Urich, Michael O'keefe, Brad Davis, Delroy Lindo, Ron Liebman, Tom Conti, George Dzundza, Aida Torturro, as well as Margaret Colin.

Stuart Burney Has Worked With Directors Such As:

Mike Nichols, Arthur Penn, Harold Becker, Alan J. Pakula, Ken Russell, Peter Yates, Susan Batson, Jeff Bleckner, Robert Cohen, Gary Bennett, Estelle Parsons, David Wilste, as well as David Wheeler.
For appointments or more information about Stuart Burney's NYC acting workshop, acting classes, and / or private acting coaching contact the acting teacher / acting coach at his Manhattan, New York City office. t: 917. 482.0810, email him at info@actingteachernyc.com , or Click Here.
CONFIRM APPOINTMENT:

Please confirm your appointment with Acting Coach Stuart Burney. You will be charged to secure your appointment. The remaining balance for your private session will be paid in person. After payment you will receive an auto-generated receipt.

MAKE PAYMENT HERE
SERVICES OFFERED:



Private Coaching


Audition Preparation


Monologues


Scene Study


Character Development


Career Guidance


Script Breakdown / Analysis


Creating Your Own Way of Working


Evenings With Casting Directors & Agents


The beginner actor is welcome. The only requirement is to bring your genuine passion for Acting!


ACTING WORKSHOPS

Location:
29th Street Repertory Theater
212 West 29th Street,
3rd Floor
(between 7th & 8th)
New York, New York 10001
t: 917.482.0810
info@actingteachernyc.com